Purchase Anniversary Items
Clothing items, bags, and accessories commemorating the anniversary are now available on the Campus Customs website.
Use the Logo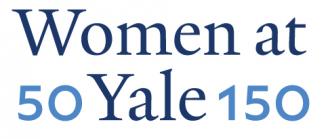 This logo was developed by Miko McGinty '93, '98 MFA and Rebecca Sylvers '15.
We encourage all Yale groups to use the logo in conjunction with events and publications connected to the anniversary.  See the style guide for its use.
Make a Gift to Honor a Woman at Yale
If you wish to mark these milestones by giving, you can honor a woman of your choice with a contribution to any area of the university. Or, you may direct your support to one of several areas that advance women's education, health, and well-being at Yale.